Not much of a break for the champions.
Fresh off an undefeated run at the West Coast Rugby Conference's 7s championship in San Luis Obispo on April 8, the Mustangs are back at it — this time on the 15s pitch.
Cal Poly travels to San Jose State University on Saturday, April 15 for the first round of the West Coast Rugby Conference's 15s playoffs tournament. The two-day conference tournament will feature the top four squads battling it out for the conference championship.
Cal Poly plays Sacramento State in the first match on Saturday. Kickoff is 11:30 a.m. The winner advances to play either San Jose State or UC Santa Cruz on Sunday.
The WCRC conference champion moves on to the College Rugby Association of America Regionals hosted the following weekend at Stanford University.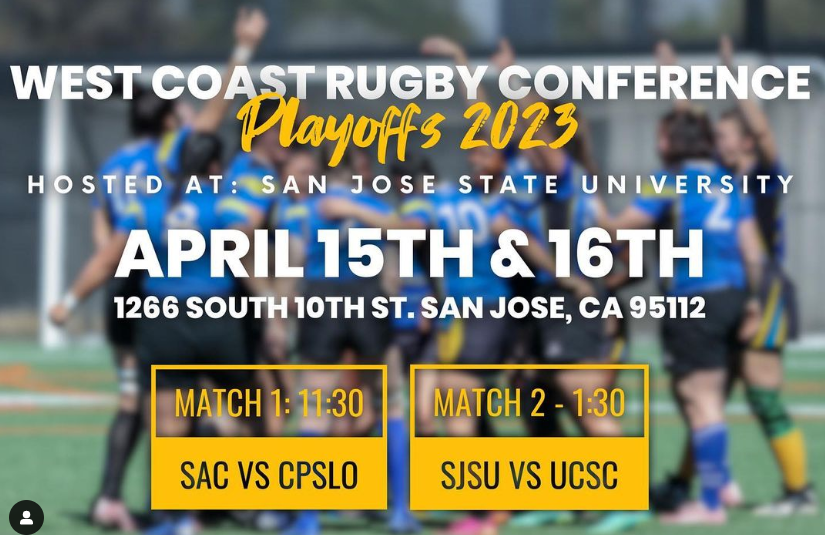 "We're all incredibly excited that we made it to 15s playoffs this year," senior team captain Abby Jens said, who plays No. 8. "Spirits are very high after winning the West Coast Rugby Conference 7s tournament last weekend and I am looking forward to channeling that fire into our games this weekend."
The Mustangs are 4-2 in 15s play this season. After a 12-5 season-opening loss to UC Santa Cruz in monsoon-like conditions, Cal Poly rattled off three consecutive victories: a 24-17 win over Santa Clara; a dramatic 22-20 victory over the University of Nevada-Reno, and a 45-14 beatdown of San Jose State.
The only other team to beat the Mustangs this season is the same opponent they'll be matching up against on Saturday: Sacramento State. The Hornets defeated Poly 27-12 on February 25.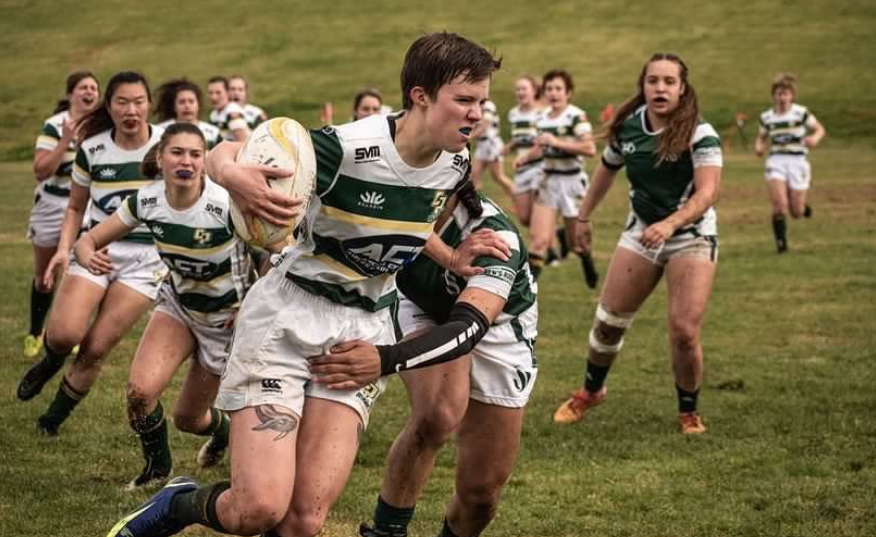 Abby Jens and the rest of the Cal Poly squad, led by long-time head coach Zach Markow, understand the kind of effort this next match will require.
"[Sacramento State] is a very physical team and I know that they are going to come out of the gate with some big hits," Jens said. "To counter that, we are going to have to rely on our speed and ball-handling skills that we have been working so hard to improve since we last played Sac."
Sacramento State is undefeated in 15s play at 4-0, according to their Instagram page.
"After coming off of being first for the 7s championship, our team is definitely feeling the power," senior president Nirina Parrish said, who plays inside center and helps command a dangerous Cal Poly backline. "Sac State beat us during the season in horribly muddy conditions and I think if we keep focused we will be able to beat them, and any team we come across during the playoffs, for that matter. I think Sac will have a lot of pent-up aggression since we beat them in 7s. So, as long as we come out strong, we should be fine.
"We know we have the skill and speed, now we have to show it," Parrish continued.
WCRC 7s Recap
The Mustangs went 4-0 in the West Coast Rugby Conference's 7s championship this past weekend, defeating each opponent by double digits.
Cal Poly defeated UC Santa Cruz in the first match of the day, 37-0, and followed that up with an impressive 17-0 win over Sacramento State.
The Mustangs finished off pool play with a 27-5 win over Saint Mary's.
In the championship match, Cal Poly matched up against San Jose State, winning 22-5 to cap off a hugely impressive performance in front of the home crowd.
The WCRC named three Mustangs to their Sevens Championship "Dream Team." Those three are Alexis Ingargiola, Linique Bouwer, and Peyton Candele. Lizzie Darst and Abby Jens were conference Honorable Mentions.